In what the current Vikings ride?
13.03.2013
While we are lack of snow as before, we decided to become the scribblers a little. And at last we wrote the review of the rare freeride helmet Sweet Protection Trooper FullFace. The helmet was specially bought in Norway for testing. Nowadays, they are still rare in Russia, so this review will be useful for those, who are going to buy the helmets of this producer.
In what the current Vikings ride?
For the past few years in Krasnaya Polyana people have begun to appear in bright GORE-TEX onepiece suits with logo "S" on it. The foreign freeriders and sportsmen were in cool carbon helmets with the same logo. Anyway, several times our readers asked me about the producer, then I'd interested in it myself =)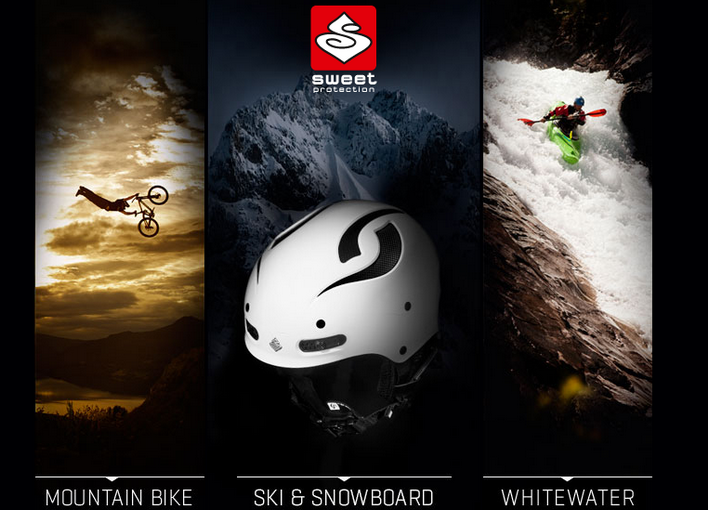 As it turned out it was a Norwegian brand "Sweet Protection", which produced all the gear and clothes for snowboarding, skiing, biking, skating and kayaking. Since the kayakers have properly informed about this brand, many snowboarders and freeskiers knew nothing. I have heard a lot about Sweet high-tech carbon helmets with extreme protection capabilities, etc., etc.. And one of the Sweet team riders taking part in its developing was Terje Haakosen. In a nutshell, it must be tested! We were interested just in a top line model Trooper FF helmet. Many riders also use such helmets in MTB, because there is no difference between them outwardly, only in its certificates. One is specifically certified for snow sports (EN 1077), the other – for MTB (EN 1078). Correct me if I'm wrong.
Trooper Full Face is a free ride semi-carbon fiber helmet, its weight 750 g. For that moment, it was the safest and high-tech helmet of that line. Now a new totally carbon helmet exists, but for the moment of the purchase it wasn't available on the market.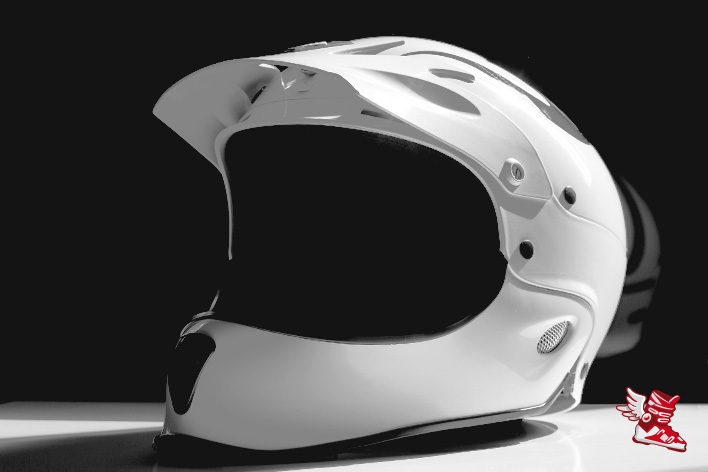 In general, it was like this: In June, I wrote to the Sweet Protection office, asking for helmet tests because many freeriders would be interesting in it. It was logical that they couldn't ship a helmet free of charge especially to Russia, but we got ​​a 50% discount. Thanks! The helmet cost 400 euros without discount. The final cost was 10 thousand rubles. That's 200 euros + shipping in Norway! This is one of the most expensive snowboard helmets that I tried. Although, we must understand that Norway in itself is an over-pricey country, and other brands are not cheap too. So, do not expect a quality improvement in accordance with price. By the way, in my memory the most expensive helmet is a Swedish POC Cortex DH. While, no… I'm mistaken. Recently in Krasnaya Polyana I have seen a helmet with strobes, fur ears and a crocodile handbag for 56 thousand rubles (euro 1200 =) Here it is: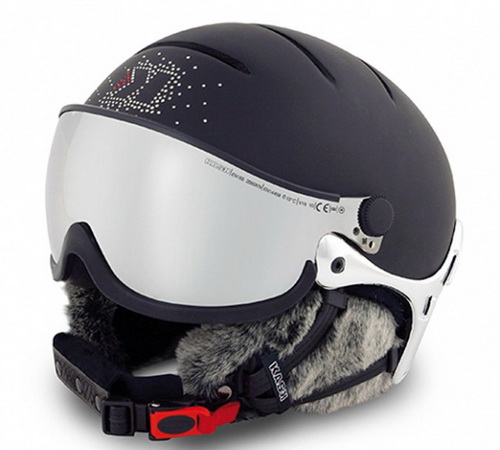 Well, there it was, but I got really het up over the Sweet. However, they do not deliver TO Russia, and a common delivery would cost me like one more helmet. So again, my status in vk.com and a nice girl Kate, who brought this helmet in Russia, helped me.
Since my helmet size - M, 58 cm, I ordered M / L (56-59 cm). Imagine my surprise when it was impossibly small! It put pressure on the temples. The actual size of the helmet was S or XS according to our parameters. The helmet fitted perfectly my wife Natasha, who usually wore Salomon and Smith Small size. But the Norwegians met our request and exchanged this helmet for another size. Thanks a lot for that!
I've tried a number of helmets such as Giro, Red, Salomon, Julbo, Smith, Mace and others. All of them were Medium size, but Sweet helmets had really something strange in their sizing chart. The Norwegians explained that the fullface helmet was narrower than a common helmet according to its construction. Also, I googled and found out that the Scandinavian skull was narrower and more elongated than European ones and especially round Mongoloid. I also found out that one more parameter existed - the cephalic index, which meant the ratio of the breadth of the head to its length =)
By the way, it turned out that the Swedish POC helmets and googles had the same problem. They are very narrow at great length for the standard Russian head. Therefore, the Russian M size corresponds to the XL size in the Scandinavian system. Conclusion: if the helmet is made in Scandinavia, it is necessary to measure it!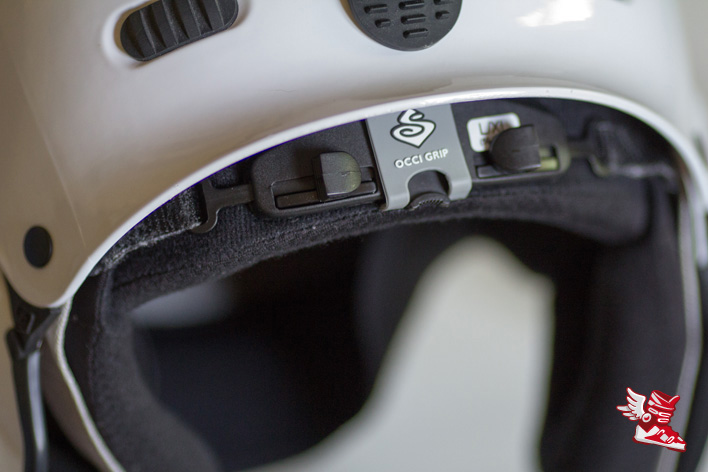 As a result, the helmet size L / XL fitted me properly. Although it's still very tight in temples, but I didn't feel any pressure. And there was much space between a forehead and a helmet liner so that the hand could slip! It was also deeper than common helmets. But like a top-rated helmet, Sweet Protection came with a set of varying sizing pads. I added padding along interior, so that I got a custom fit, which made finding the helmet easier and more comfortable. I was satisfied!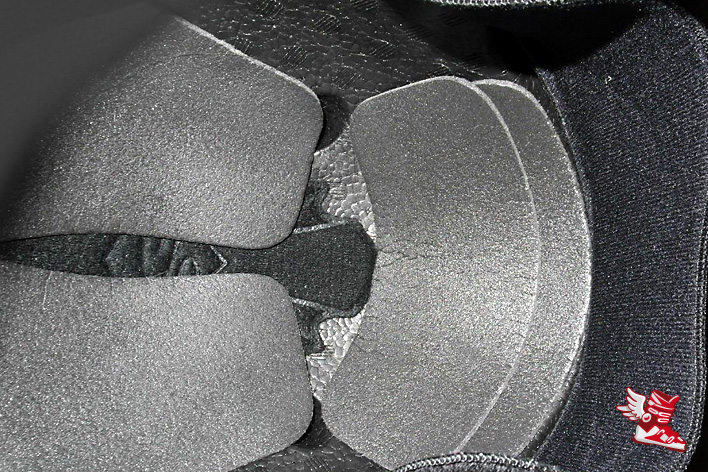 In general, I wrestled with the logistics and precise fit. It was fine that the process took place in the summer and ended only in September...
Construction of helmet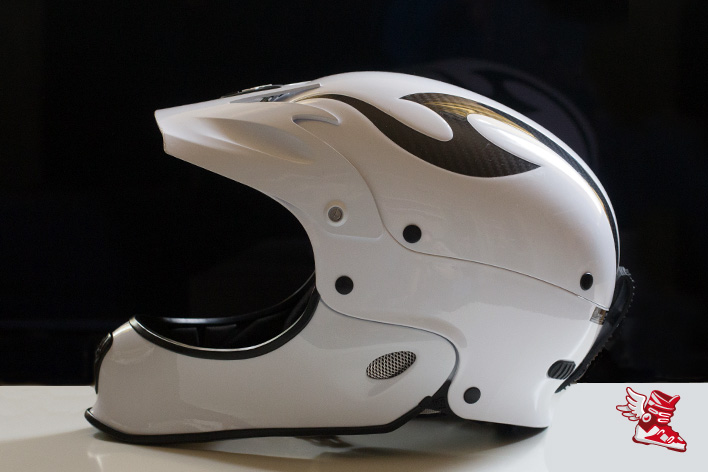 Unlike most fullfaces, Trooper FF comprises three parts: carbon shell, middle plastic part and carbon jaw. In fact, it is their usual Trooper helmet, but with a jaw guard, which resembles itself a large jaw. Skull and base are jointed by metal rivets. Even under light loads, the base flexes at the junction. Certainly the helmets passed the tests to satisfaction and on hitting a rock at the junction, everything must be protected. Like in the most helmets, an extra inner protective shell is used under the outer shell. Perhaps, it's a unusual high-tech and certified material. May be. The retention system is now adjustable. Also, the plastic visor is fixed by three bolts on top of the helmet.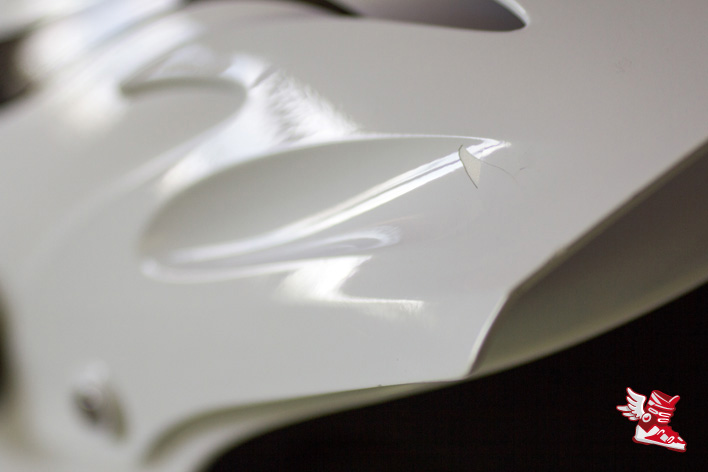 The paint, which covers the helmet, is lacquer-like and shiny, everything reflects in it. But the quality of the covering is not very good. At the first hitting a tree in the forest the paint covering the visor crackled. Well, the paint don't matter one way or the other, but for 400 euros they might not have skimped on paint. By the way, the helmet is made ​​in Hungary, not in Norway, although at that price I was expecting Scandinavian production.
Use
About helmet weight. I didn't notice something supernatural and moreover its superior lightweight construction. Common non-carbon helmets without a jaw protector are lighter in 1.5-2 times. The helmet can be a bit tight to put on because of the design of the face protection, but it means that it does not come off in a fall. And so, it happened. I didn't have much crashes, but in terms of safety, I felt that helmet was well made.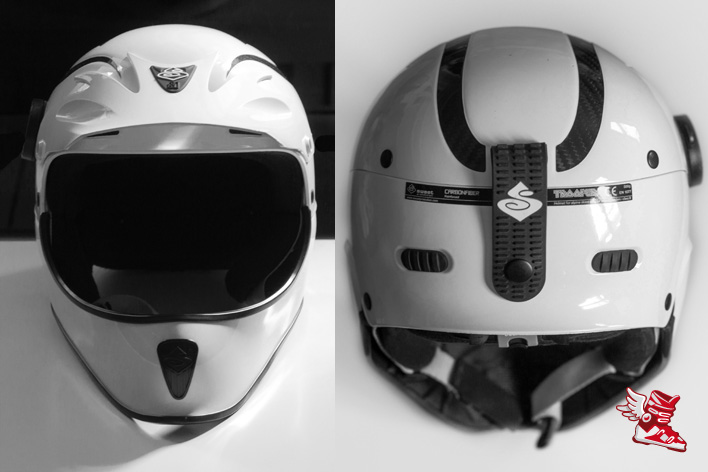 The visor has a very small lift, only 2-3 cm, which causes some inconvenience. Using a helmet camera Contour the visor does not lift up enough so that its edge gets into your visibility. Googles couldn't be place under the visor, it has to pull on it.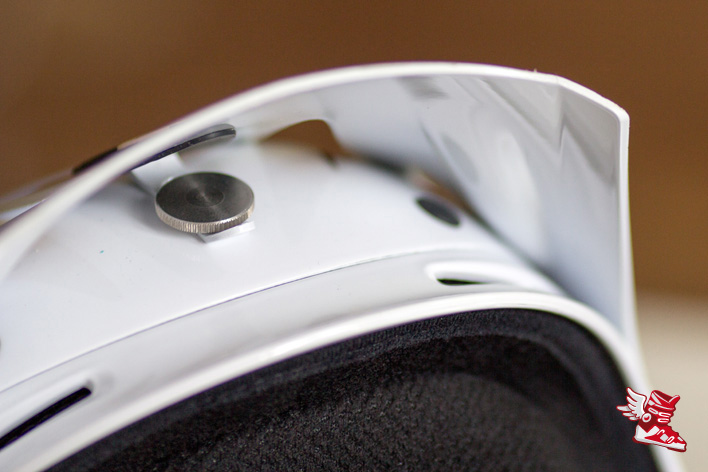 The helmet fits well with different googles, except very large. Dragon NFX is too big. As for sunglasses, there is no room to fit a pair of them. It is still too tight. Jaw protector and visor shield from the branches quite well. Once it protected me from the steel wire, which I did not notice between the two fence posts.
Well, at least one photo from the mountains with the google. However, in the good powderdays we somehow forgot to take a picture, let it be this one =)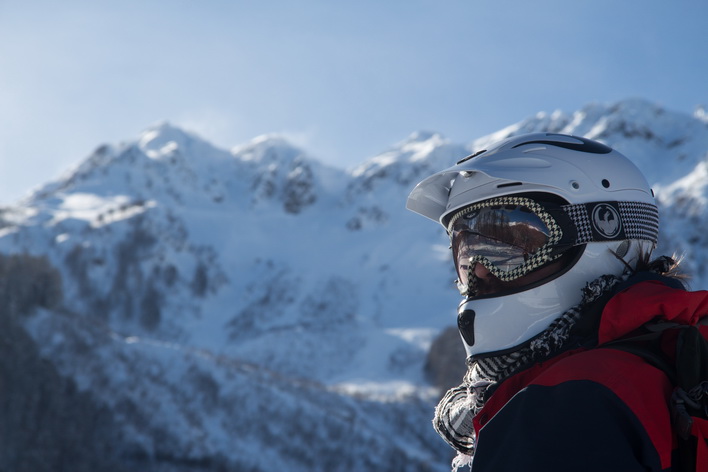 What else? Vent system. The ventilation is missing at all, just tricks for design at the front. Inside the helmet has a number of vents, but evidently the interior is the same for all Sweet helmets, and it is not provided in full face, perhaps because "the real Vikings do not sweat" =)
How to phone? The helmet sits so tightly that you won't cram a phone under the helmet. The Sweet website said that ears came with speaker system, but I was emailed that it was not suitable for fullface helmets due to safety. But in reality, it seemed to be placed normally there. The standard ears are thick and deep, so a usual Bluetooth headset is placed there conveniently for me. By the way, all the sounds from the outside are also heard quite well through the helmet, there is a special mesh on the sides.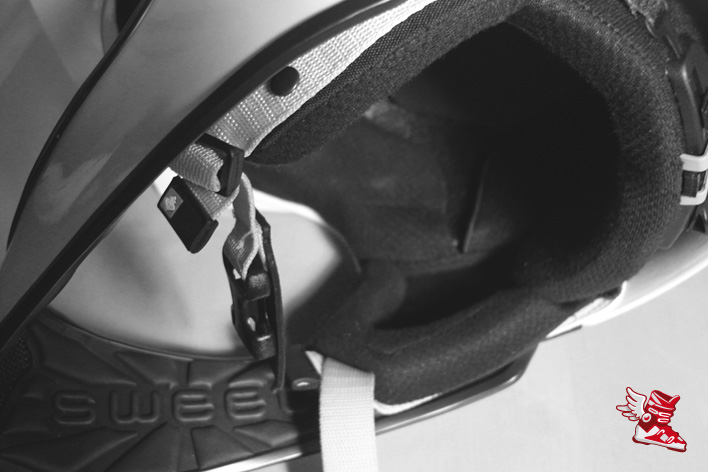 So, a brief summary ...
Pros:
- Lightweight
- High level of protection
- Cool design. This is, of course, subjective, but I really like it.
- Adjustable and removable pads to make it fit better.
Cons:
- Non-standard shape, I just was bored to customize it for myself
- High Price
- Quality of paint covering
- The difficulty of buying
The Verdict:
If you decide to buy such a helmet, first you must think about the size, and then find out how much you will pay for delivery. If you are ready to spend about 20,000 rubles, and sometimes tell everybody what the helmet such is, the Sweet Protection is for you. It seems to be so many difficulties, but there is still something special in their helmets. Maybe it's "Vikings' design", or it can be a skilled marketing. But personally, I really like this helmet, and I often ride in it. Therefore, we can say that the time for quest with delivery and over delivery was not spent in vain. If I have any possibility to ride in other Sweet helmets, then I'd be happy to try.
I must say that the helmet that I bought, now is taken out of production, and is replaced by a new one, totally carbon Charger Full Face. The Norwegians even wanted to send this helmet from the new collection, but, evidently, could not do it or just forgotten about. But they sent a photo of it that is really cool.

Of course, the helmet looks stylish and a bit like downhill helmet. The helmet is also equipped with the MIPS system which is in a fashion nowadays. This protective system reduces brain impact on different angles. Well, and again it's still carbon, this and that =)
So, look for, want, save money.

Text: Evgeny Matalyga
Photo: Arina Melekhova
Well, and now the next helmet, which has come to our attention - is Ruroc. Many riders praise it for its convenience, flexibility and good price (if you don't buy it in Russia). However, I doubt whether we could get it. Because the Russian representative office doesn't want to provide it for free and also can't sell. The season is already over and everything is sold out. Let's try to order it abroad =)